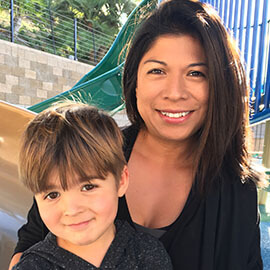 Classroom Website
Yared Mayorquin
Lead Preschool Teacher
2018 Teacher of the Year
Bilingual Immersion Teacher
Hi, my name is Yared Mayorquin and I would like to welcome you to our family here at Carlsbad Country Day School. I started working for CCDS back in 2007, as the Master Teacher in the Infant and Toddler Program. I have always had a passion for helping toddlers and babies develop into unique individuals. In 2013, I became pregnant with my youngest son, Robert, and took some time off to bond with him. When I returned, I accepted a position teaching a preschool class here at Carlsbad Country Day, and I have never looked back. Educationally I have completed my AD in Child Development, and currently hold my Master Teacher's certificate. Additionally I am in my MBA program at National University. In my spare time, I offer Bilingual Immersion classes at Carlsbad Country Day School.
At home I am a busy mother of three handsome boys, Adam, Dominic, and their new baby brother Robert. We have lived in San Diego for years, and my children attend Sage Creek High School and Calavera Middle School. We absolutely love the outdoors and spend our free time kayaking and hiking.
I look forward to working with your children and making the same kind of connection that sparked my love of learning when I was a young.