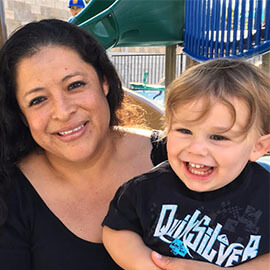 Laura Baca
Infant Center Director
Hi, my name is Laura Baca and I am the Infant and Toddler Center Director here at Carlsbad Country Day School. I have had the pleasure of working with children for over 14 years. I absolutely love working with the babies, and have found that it is a true passion of mine. When I wake up every morning, I know the work I will do each day will make the difference in the life of a child. I feel like I have made a truly rewarding career choice.
On weekends I love to play soccer with my husband and two boys, Anthony and Jonathan. I recently joined Carlsbad Country Day School's Friday night Kickball team, the Recess All Stars, and have had a bunch of fun with it.
I look forward to meeting you and your family.