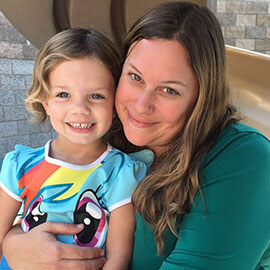 Melissa McCulloch
Lead Infant Teacher
Hello CCDS family! I am Melissa McCulloch and I am one of the Lead Teachers in the Infant and Toddler Care Center. I was southern California born and raised and received my BS and MS from California Polytechnic State University, San Luis Obispo, in Ecology Systematic Biology and Environmental Management. I grew up in a German household and am fluent in the language. I have always found the humor in things and can easily turn an ordinary conversation into one of quips and playful sarcasm. I smile and laugh a lot. I find amusement in the littlest things and encourage others to share in my amusement. After all, laughter is best when it is shared.
Shortly after my husband of now 13 years and I were married, we moved to Colorado where for 11 years I worked in the medical field conducting environmental health and safety monitoring for hospitals, surgery centers, research clinics and labs. While I would miss my work environment, friends, family, and the beautiful seasons, a life change just felt eminent and necessary for the betterment of our family. Thus, we moved back to sunny California leaving the cold winters and shoveling of our driveway behind. My husband Andrew, who is a native of San Diego, had always enjoyed the Carlsbad area and we quickly uprooted our family, with our 15-year-old border collie mix in tow, to this outstanding beach community.
We have two young children that are both currently attending CCDS. I have had the unique opportunity of being a parent at CCDS prior to working for this amazing school. Shortly after our children began their various educational programs I began taking courses in child development and was given the remarkable opportunity to work for CCDS. I am continuing my education and working on completing my infant-toddler certification program.
Our weekends are spent exploring our new surroundings- swimming wherever there is a pool (my children love the water), at LEGOLAND (a membership was a must with two youngsters), and spending quality time with our family and extended family.
I absolutely enjoy working with our infants and toddlers. It is such a special age and I am so honored to be part of their development. They grow at such a rapid pace, and I consider it to be an amazing privilege joining them on their journey from infancy to walking, babbling to talking, and becoming adorably triumphant children who are beginning to master grown-up skills.