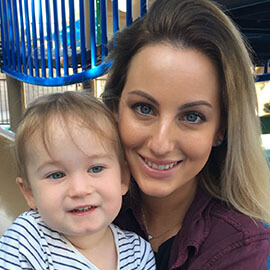 Classroom Website
Amanda Martinez
Lead Preschool Teacher
Hi, my name is Amanda Martinez. I have spent the majority of my life living in rainy Oregon until recently when I moved out here to beautiful sunny California. I am so excited and honored to be apart of this wonderful teaching team here at Carlsbad Country Day School.
I have a B.S. in Human Development and Family Sciences from Oregon State University. I completed 4 years of teaching at my high school's preschool program and then went on to teach Pre-k and Preschool at a local childcare center in Oregon for 4 years. My philosophy in teaching is that all children can survive and thrive with positive support, loving encouragement, and consistent structure from adults within their lives and communities. I cannot wait to be apart of your child's life and to help them learn, explore and create here at Carlsbad Country Day School.
I am married to my high school sweetheart and we have a little girl named Lillian. As a family we enjoy playing at the park, going to the beach, and watching baseball. We are a family that spreads love and encouragement to each other and I plan to bring that same love and encouragement to school every day.Together we can prepare today's children to be tomorrow's leaders! I look forward to meeting you and your family.