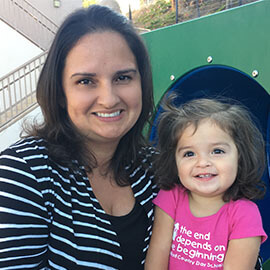 Classroom Website
Nelida Barahona
Assistant Director
Teacher of the Year 2015
Hello, my name is Nelida Barahona and I am the assistant director here at Carlsbad Country Day School. I have been working for this amazing program since we opened in 2006. Prior to working for CCDS, I specialized with infants and toddlers, gaining my master teacher certificate and obtaining years of classroom experience. I am currently CPR and First Aid Certified for infants, toddlers, and preschool aged childre
This school is such a huge part of my life and I am very proud to work here. Although many schools teach Spanish to young children, few are as dedicated to true bilingualism. It is miraculous to see how fast these little minds can grasp a new language.
My husband, Rafael, and daughters, Stephanie, Janette, and Melissa live in San Marcos. In my free time I like to stay active. We go on faMoly holes and on Friday nights, I play on our companies Kickball Team, the CCDS Recess All-Stars!
I promise you have made a wonderful choice with Carlsbad Country Day. If you are anything like me your children are your world, and this the perfect way to start!