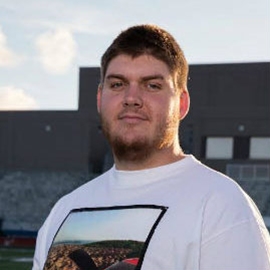 Dylan Palmer
Assistant Teacher
Hello! My name is Dylan Palmer. I have lived in southern California my entire life and graduated high school from San Marcos High School. I initially came to Carlsbad Country Day School as a volunteer to obtain my community service learning hours but I loved the environment so much that after I was finished with the hours I needed for high school graduation, I applied for an assistant teaching position. I am currently enrolled at Palomar College and have enrolled in the necessary units to become a lead teacher by the end of the semester. I am fully CPR and First Aid certified for infants, toddlers, preschoolers and adults.
I have the unique opportunity to work with all the kids here and yes, I know every child's name. Whenever your children come home talking about "Big Dylan" they are talking about me! It's so much fun watching the growth of every child here at CCDS. Whether it's hanging out with the toddlers or playing football outside with the kindergartners, I really enjoy my time here.
During high school, I played football all four years on both the Defensive and Offensive line. I was a 3 time All-Star my senior year and I am currently pursuing my collegiate football career at Palomar College while working towards a bachelor's degree in kinesiology.
I am grateful to be part of this awesome preschool program and look forward to meeting you and your family.