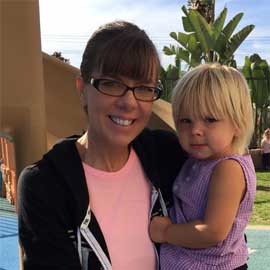 Jeanna Kerr
Lead Preschool Teacher
Hi, my name is Jeanna and I am excited to be your child's preschool teacher.
I have always enjoyed being around children and have over 12 years of experience as a teacher, nanny, sports coach, and mother. Before coming to work at Carlsbad Country Day School, I was a Junior Kindergarten teacher for a private preschool in Carmel Valley. Prior to that, I worked as a pre-kindergarten teacher for four years.
In terms of my education, I attended Santa Ana College and Mira Mesa College and received an equivalency to my Associate's Degree in Child Development. My teaching philosophy centers around the fact that the first five years in a child's life set the foundation for future learning. Therefore, I strive to be responsive and encouraging in supporting children's growth and development, guiding them to achieve their very best.
I look forward to getting to know all of you and to several years of partnership in providing the best care for your children. Please feel free to approach me with any questions that you may have.
Sincerely,
Jeanna Kerr