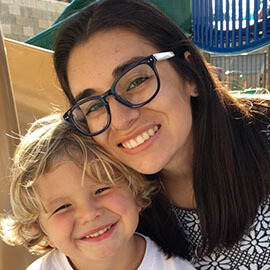 Staci Glavin-Castro
Lead Toddler Teacher
Hello, my name is Staci Galvin-Castro and I am the Long Term Substitute Teacher here at Carlsbad Country Day School. Since I substitute in every position here at Carlsbad Country Day, I am one of the unique teachers that know every child's name in the school. I love interacting with all the age groups and getting to know each child in all the different classrooms.
I was born and raised in Riverside, California. I am an only child but I never felt lonely growing up. I come from a big family with lots of cousins, so I know what it is like to be around children of all ages. I graduated from the University of California, Irvine with my B.A. in English. I also minored in Education, where I found my true calling. I love working with children, so I went on to get my multiple subject teaching credential at Concordia University of Irvine. Before completing my student teaching, I found a preschool job in Newport Beach where I worked in the toddler room. I really loved working at the preschool level and decided this is what I want to do for the rest of my life! After working at the preschool for almost a year, I went back to school, but this time I enrolled into early childhood classes. I completed all my units to become a master preschool teacher and I am so glad I did because I love working with this age group.
When I moved to San Diego, I looked hard for a preschool I would like, and then I came across Carlsbad County Day School. Since I started working here, I do not regret a single moment of this awesome opportunity.
When I am not working with your children, you can find me curled up reading a book or playing with any cat that walks across my path! I am excited to get to know the families of all of the children I see everyday.