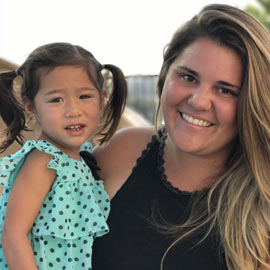 Jeana Hughes
Lead Preschool Teacher
Hello! My name is Jeana Hughes and I am one of the Preschool Teachers here at Carlsbad Country Day School. I was born and raised in a farm town in St. Cloud, Florida. Although I miss my home town, I currently reside in Oceanside and I am more than happy to have the beach in my backyard. When I am not in the classroom, I enjoy reading a good book, going on outdoor adventures with my Golden Retriever Chief, watching college football on the weekends, and traveling to new places with my husband.
When I was little, I always enjoyed pretending to be a teacher in a classroom. As I got older, I spent a lot of time tutoring and babysitting for friends and family. While I was attending Florida State University, I was heading to my job, as an after-school counselor, when I decided to change my major and become an elementary school teacher. I could never have been happier with this change of course in my life! I enjoyed spending my days in and out of the classroom, learning new inventive strategies to help students grow and develop. I graduated from FSU with a B.S. in Elementary Education. Although I initially thought I was going to teach elementary school, I fell in love with the program here at Carlsbad Country Day and have learned that this is exactly where I belong!
I am so excited to be a part of the CCDS family and I look forward to meeting you and your child!