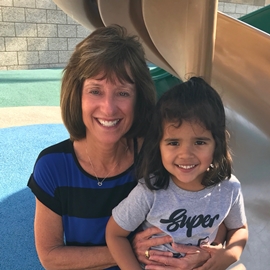 Kim Welch
Lead Preschool Teacher
Hi! My name is Ms. Kim and I am thrilled to be a part of Carlsbad Country Day School. I am originally from the east coast, I grew up in Connecticut and attended College in Boston. 2 ½ years ago, I decided to follow a lifelong dream to move to California, and I couldn't be happier.
In my free time, I love to be outdoors, hiking, cycling, walking and spending weekend time at the beach. I will never tire of the abundance of beauty here in California. I have two grown sons, one living in Dallas, and the other in New York.
I have worked with children for the past 20 years, first as a school secretary, then as a special education assistant, preschool teacher and first grade teacher. The three years prior to moving to California I owned my own business, a Drama Kids franchise, which is an after-school enrichment speech/drama program. I knew when I was in second grade that I wanted to be a teacher, and my passion for working with children never wavered.
I look forward to getting to meet you and your family.