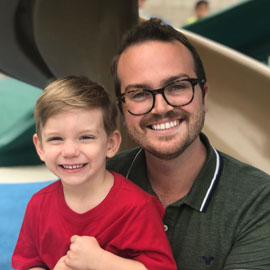 Tyler Clark
Preschool Teacher
My name is Tyler Clark and I am thrilled to be at Carlsbad Country Day School! A child's growth in these early stages of development will benefit the choices they make for the rest of their lives. Before coming to work here, I worked at a child care center in San Marcos where I was a pre-k teacher. I enjoy teaching children and watching them grow to be the very best person they can be.
In terms of my education, I have my Associate's Degree in Psychology from Palomar College. I have also taken 12 units of Early Childhood Development to further understand what a child needs to flourish and grow as a person. I am currently pursuing my Bachelor's Degree in Psychology and can't wait to see what the future holds for me at CCDS!
When I am not at Carlsbad Country Day School I have a beautiful wife who I love doing everything with! Our favorite thing to do together is to go to Universal Studios and the Safari Animal Park. We also love to cook and go camping on Palomar Mountain. I am excited to meet you and your child!