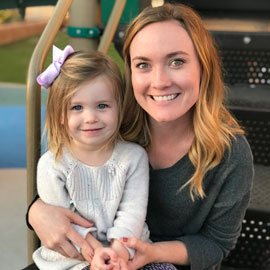 Meghan Wedge
Lead Preschool Teacher
Hello! My name is Meghan Wedge and I am a lead preschool teacher here at Carlsbad Country Day School. I grew up in Orange County, California and earned my Bachelor's degree at California State University, Long Beach in Child Development and Family studies as well as Family Life Education. Over the past five years, I have gained experience through field study in a preschool setting, volunteering with a non-profit organization for underprivileged kids, and working for the City of Orange as a recreation leader.
I have a passion for teaching young minds and helping them be their best selves. As the eldest of three siblings, I grew up knowing that I wanted to be the best example for not only my siblings but other young children as well.
When I am not at work, I enjoy working out at the gym, date nights with my boyfriend, and visiting my family. I am honored to be your child's teacher and am very excited to start this new adventure with your family.