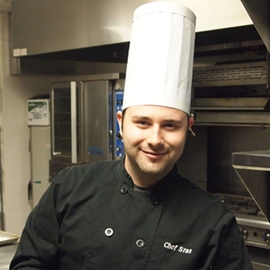 Stanislav Rabinovich
Executive Chef
Kids Kitchen Class Coordinator
Hello, my name is Stanislav Rabinovich and I am currently the head chef here at Carlsbad Country Day School. I graduated from the San Diego Culinary Institute and was fortunate enough to make my childhood dream of becoming a chef a reality. My past restaurant experience includes four years at one of the Zagat's top rated restaurants in San Diego, the Rancho Bernardo Inn. I was also the executive chef at Elijah's in Del Mar, Trattoria Firenze, and the Meadow Lake Golf Course in Escondido. I have been asked why I left these restaurants to cook for children. It is obvious to me these people have never cooked for children, some of the toughest food critics around. One of my main motivating factors, were the hours. Working here at Carlsbad Country Day School allows me nights and holidays to spend with my two beautiful twin daughters, Madison and Lillie.
One of my favorite things about being a chef is that I never stop learning. I get to keep that creative aspect of being a child and trying new things that many of us as adults lose in the shuffle of daily life. Every day is a new adventure cooking with the children in the Kids Kitchen and designing the Around the World Food Curriculum for them.
I was a child, my mother always told me how most boys would play with dinosaurs, cars and trains but I played with pots and pans. I am so glad that as an adult, I have been able to keep that passion alive.