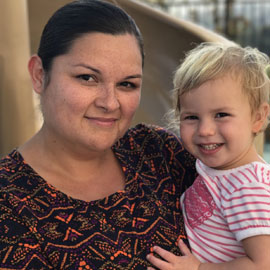 Lupe Reyes
Lead Preschool
Bilingual Immersion Teacher
Hola! I am Ms. Lupe Reyes, the teacher of the Spanish portion of the Bilingual Immersion class here at Carlsbad Country Day School. I have been at CCDS for the past two years and I am so excited to begin this journey with you and your family. Because I am of Mexican heritage, I hold a passion for our culture and language, so when the opportunity to teach preschool in my native language was offered to me, I just couldn't pass it up.
When I am not at CCDS, I am at the park or at church with my husband, Cesar, and my two daughters, Gisele, 6 and Liliana, 2. Both of my girls attend CCDS and have flourished here. We love going to the beach and enjoying the weather here in sunny San Diego. I am also very involved in my local church; my husband is a Youth Pastor and I am a Sunday School teacher. As you can imagine our weekends revolve around kids of all ages. I love being able to help mold and shape young minds.
I believe that you have made an excellent decision enrolling your child in a bilingual program. Your child will learn to speak and understand Spanish the same way they learned to speak English, but experiencing the language first hand, drawing, playing, exploring and conversing. I am so excited to be a part of the first bilingual immersion class at CCDS.
Con Mucho Carino,
(With Much Love)

Ms. Lupe