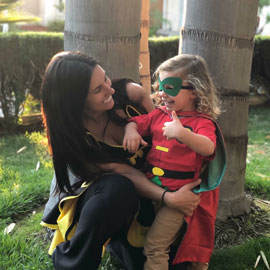 Melissa Reed-Cavaluzzi
Director
Hi! My name is Melissa Reed-Cavaluzzi and I am the director and owner of Carlsbad Country Day School. I graduated with my BA in literature and writing and went on to receive my Multiple Subject Teaching Credential from Cal State San Marcos. When I began teaching my first kindergarten class, I faced the problem of finding a preschool that I felt comfortable leaving my sons at while I went to work. Although I tried a few local preschools in the area, it was apparent that Carlsbad needed a quality preschool that was educationally based. At the time, my father, Mr. Darrell, was retiring from his career with the defense department and was looking to start something new. After a few planning sessions with him and my mom, Ms. Phyllis, we decided to open Carlsbad Country Day School.
While developing our program, I worked closely with public school administrators, seasoned teachers, doctorates of education and licensed therapists to create an optimal environment where children would love to come and learn. Although providing a strong educational foundation was the first step, I knew that I wanted the school to cater to working parents too. I wanted to make it easy for the students at my school to attend dance classes, martial arts, Spanish immersion, soccer, drama and other enrichment type programs without having to leave the campus.
Finally, I knew that if I could build a kitchen that could serve 200 students a day, we could relieve the stress on parents of what to pack for lunch. I am happy to say that we are the only preschool in California with a fully licensed restaurant and kitchen. Our head chef creates a hot breakfast and lunch menu that caters to all allergies and religious restrictions. Included in tuition are two healthy meals per day and all your child's snacks.
Carlsbad Country Day School is what drives me to wake up in the morning. Since 2006, seven of my own biological children have attended school here. I believe that by opening this school I not only the best career decision for myself, but the best educational decision for my family. I am very proud of this school, and I look forward to sharing my passion with you and your family.