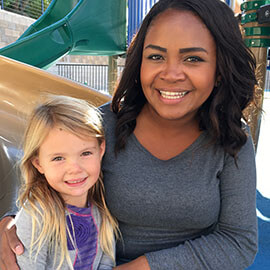 Classroom Website
Natasha Tiplitsky
Lead Preschool Teacher
Teacher of the Year 2014
Hello, my name is Natasha Frederick-Tiplitsky and I am one of the Preschool teachers here at Carlsbad Country Day School. Since I was young I have always dreamed of being a teacher that makes a difference. Before taking over my preschool group, I worked at CCDS as both a lead Toddler Teacher and as the Lead Enrichment Program Coordinator. I have three years of previous experience teaching preschool and kindergarten in Temecula. Working with young children has always been a rewarding career for me, I can't imagine myself doing anythig else. One of the main reasons for entering this career path is my daughter, Diore. Having a child of my own has really driven me to learn more about the education of young children and how to positively influence their lives. The way a child's personality and intelligence is formed amazes me.
cationally I am working towards my BA in Early Childhood Education. I am fully qualified by the state of California to be a lead teacher in a preschool program and I am both CPR and First Aid certified.
as born in Olangapo, Philippines and came to the states when I was three and a half years old! I finally moved to coastal Carlsbad with my husband, Justin, after living in Temecula for about 7 years. We absolutely love the area! I enjoy going to the beach, scrap-booking, making cards, movies, music and karaoke! I look forward to meeting you and your child!