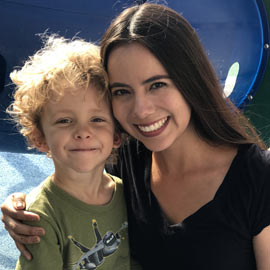 Ilianne Banuelos
Lead Preschool Teacher
Hi, my name is Ilianne Banuelos and I am one of the lead teachers here at Carlsbad Country Day School. I am beyond excited to be your child's preschool teacher. I was born in Redlands, California, but I recently moved from Riverside County to the San Diego area. I absolutely love it here! I really enjoy spending time with my family and traveling. Last summer, I had the privilege of traveling and teaching English in South Korea to school aged children. It was an amazing and rewarding experience.
I have an AD in Child Development and I've been in the childcare field for four years. My teaching philosophy is centered around the importance of seeing each child as an individual in all areas of development; cognitive, social, creative, emotional, and physical. I really enjoy working with children, watching them learn new things each day is wonderful. I do believe the foundation we lay for children in the first few years of life shapes their future.
I am excited and really looking forward to meeting you and your child.